My son is so happy! Before when I asked him how the day went (at his former public school), he always pushed his hands out and answered "I don't want to talk about it". Now, everyday he tells me what he enjoyed during the day. Each time when he is free, he would tell me "Mom, I want to create something!" – by a Mom
VINCI School Elementary program offers a unique Personalized Learning experience to students who are typically talented learners and who may not be encouraged in a submissive/passive learning environment.
Montessori Philosophy
VINCI School Elementary classrooms offer a well-prepared environment, utilizing the time-proven Montessori pedagogical settings, including:
Freedom of Movement – tables and chairs are set individually or in small groups. Students are free to move around rather than being confined to a small desk.
Guided Choices – a multitude of materials and resources, such as manipulatives, books, online exercises, and traditional papers-n-pencils, are offered for students to choose from.
Uninterrupted Periods – our schedule includes a combination of long periods which are an hour and half, and hour-long sessions. Transition time is minimized and students can take the time to focus.
Creative and Project-based Learning
As an innovative school at the forefront of education reform, VINCI School extends Montessori pedagogy to be blended with a STEM focused creative and project-based learning.
Every week, students spend 5 hours in English Language Arts, 5 hours in Math, 5 hours in Science & Engineering and 4 hours in French or Mandarin, in addition to Art, Drama, Physical Education and Character Building.
Our weekly Genius Hour sees the teacher becoming a mentor and a learner in parallel to students. The open-ended program does not have preset objectives, except encouraging students to utilize what they have learned to research and to design anything they would want to work on. Over the process, students gain essential life skills such as dealing with failure, presenting ideas, and implementing their own design.
VINCI School is proud to be a Maker school, with machine shop and 3D design/printing facility available to students Grade 3 and above.
Personalized Experience
As each core subject has its dedicated individual study period in addition to learning in a group, teachers have time to provide guidance 1-on-1. Each student's skill set and progress is tracked and their Personal Learning Plans get updated each term. Instead of simple judgement and after-fact scores, goals are set proactively so that teachers and parents can work together to support the students to achieve the maximum.
I have fun EVERYDAY at school! – by a Grade 3 student who recently changed from a local public school.
Multi-lingual
Depending on the school location, Spanish (in US) or French (in Canada) is offered as a second language. Families who desire their children to learn Mandarin may opt out of French/Spanish and choose Mandarin instead.
Technology Tools
Technology makes learning fun and keeps students on track. In addition to VINCI Connected Learning system that connects teachers and parents together, and interactive whiteboards/tablets in classrooms, VINCI schools adopt following online practice tools:
– Raz-kid for reading and comprehension (PreK and up)
– Stanford EPGY Math (K and up)
– Stanford EPGY Language Arts and Writing (Grade 2 and up)
Elementary Curriculum Overview
All VINCI schools follow the rigorous American Common Core for Math, Language, and the Next Generation Science for Science & Engineering. Preparing all students for success in college, career, and life, VINCI schools empower students to take back the ownership of their learning, focusing on their skills and abilities.
Sofia's Story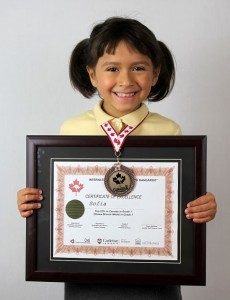 Sofia is a student at  VINCI School. She started in September 2014 with very basic Math skills, below the Common Core requirement.
In her classroom, during Math classes, Sofia enjoyed hands-on learning with Montessori beads, VINCI animated Math games, and Singapore Math. Sofia's parents followed her teacher's advice and made sure Sofia consistently spent an hour a week practicing with Math online. Sofia also participated in the Math-n-Chess Club, learning strategic problem-solving and practicing Math word problems. The hands-on and individualized learning at school seem to blend nicely with the multiple online practice tools.
In March 2015, Sofia was the last student who signed up for the year's International Kangaroo Math Contest. And she won a Bronze Medal! In fact, half of her friends were on the winning list, making up 25% of regional winners for the grade.